Full Swing 2018 Ambassador Team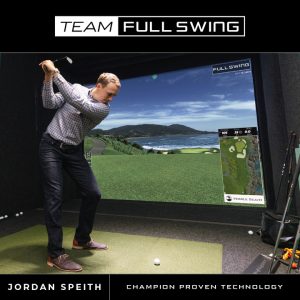 (San Diego, CA). – Full Swing, the leader in sports simulator technology, is proud to announce our 2018 line up of PGA TOUR Ambassadors. With a combined total of over 100 PGA TOUR wins, our world class team of golfers will be keeping their skills sharp for the 2018 season practicing on our Full Swing Pro Series line of simulators with trusted Dual Tracking technology.
Full Swing's Pro Series for 2018 continues in the long tradition of our patented Dual Tracking Technology providing unmatched instant ball feedback as shots transitions from real world to virtual. Full Swing technology combines high speed cameras and infrared light wave technology to produce the most realistic ball tracking available and the only system that MEASURES ball flight in real time.
As Jason Day succinctly puts it, "I am thrilled to partner with Full Swing to enhance my performance on the course. Living in Ohio full time, it's important I have a partner that can help enhance my game year-round. The accuracy and reliability of Full Swing's simulator products are unparalleled and why I chose it for my home."
2018 Full Swing Ambassador Team
Tiger Woods – PGA TOUR wins 79
Jordan Spieth – PGA TOUR wins 11
Jason Day – PGA TOUR wins 10
Jim Furyk – PGA TOUR wins 17
Padraig Harrington – PGA TOUR wins 6
Smylie Kaufman – PGA TOUR wins 1
Brandt Snedecker – PGA TOUR wins 8
Cameron McCormick– PGA Teacher of the Year
Contact:
Ryan O'Keefe, Full Swing Simulators, Ryan.okeefe@fullswinggolf.com
or toshi.corbet@webtest.fullswinggolf.com[/vc_column_text][/vc_column][/vc_row][vc_row][vc_column][vc_empty_space height="70px"][/vc_column][/vc_row]